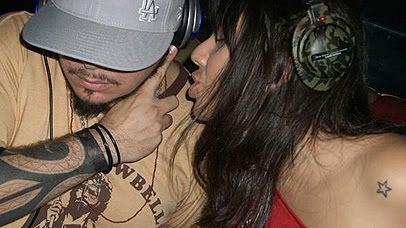 Here is what
XLR8
wrote:
Iggor Cavalera is recognized throughout the world as a master drummer and former member of none other than Brazilian heavy-metal band Sepultura. However, he is as much familiar with turntables and MPCs and he is with a drum kit, taking his credo of Hard Beat Beat and applying it to other projects. As
Mixhell
, he and his wife, Laima Leyton, combine dancefloor and hard rock sensibilities for DJ sets as unpredictable as Cavalera's musical career.
1. Iron Maiden "The Number of the Beast (Mixhell Edit)"
2. Iron Maiden "Run to the Hills (Mixhell Edit)"
3. Lowclub "Brooklyn People"
4. Mixhell "The Kids Are Alright"
5. Claude Von Stroke "The Whistler"
6. Rolf Honey "Blast Up"
7. Surkin "Hoes Get Down"
8. Faggetfairys "Uzela (prod. Joakim, T.O.M , Sensimilla)"
9. Lilica Libertine "Manhunt"
10. Justice "Phantom Part II (Soulwax Remix)"
11. Turbo Trio "Terremoto (Mixhell Remix)"
12. Buraka Som Sistema "Yah!"
13. Mixhell "Sore Throath Break"
14. Choreo "Cut The Dust (Mixhell Edit)"
15. Jane's Addiction "Stop!"
16. Dusty Kid "The Cat (Crookers Remix)"
17. Dusty Kid "The Cat"
18. Jean Nipon "Raw Deal"
19. Benjamin Theves "Texas"
20. Hands of God "Fingers (Moulinex Remix)"
21. Terry Lynn "Kocky/ KingstonLogic (Mixhell Edit)"
22. Surkin "Ghetto Obsession"
23. Crookers "We are Prostitutes"
24. Cajuan "The Raven"
25. Brodinsky "Bad Runner"
26. KIM "Wet n Wild (Riot in Belgium Remix)"
27. The Rapture "Who! Alright (SMD Remix)"
28. Sebastian "Nu Song"
29. New Young Pony Club "Ice Cream"
30. Mudd "Adventures In Bickett Wood (Layne's Head Stash Re-Roll)"
31. Alloy Mental "Alloy Mental (Boys Noize Remix)"
32. Rolf Honey "Call them Dude"
33. Chernobyl "Baile Punk"
34. Sinden "Ghetto Bitches"
35. NYPC "Get Lucky"
36. Radioclit "Divine Gosa (Brodinsky Remix)"
37. Proper Vilains "Tricky Baby"
38. Justice "The Party"
39. Donovan "Yo!"
40. Crookers "Politik Kills"
41. Turbo Trio & Chernobyl "Ela ta na Festa"
42. King Amir "Samir's Theme (Erick E Extended)"
43. Zombie Disco Squad "Straight Boy"
44. LA Priest "Straight Man (Erol Alkan Remix)"
45. Mixhell "The Kids Are Alright"
Download
Mixhell - XLR8 Podcast Jan. 2008