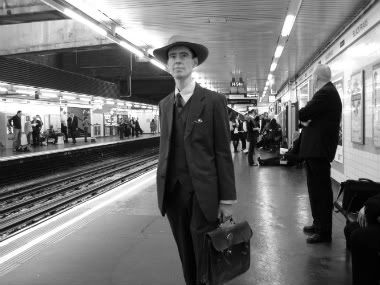 I just discovered this track a few months ago, and I found out it´s from ´82 and it´s by
Oppenheimer Analysis
. The version I found was from the
Clone Classic Cuts
release (which is worth checking out for reasons other than the track in question).
A little about the artist(s) (cut and paste from their
website
):
"Oppenheimer Analysis is Andy Oppenheimer and Martin Lloyd. In 1982 they recorded twelve songs, released on the 'New Mexico' cassette compilation. During the next two years they played a series of gigs in London and Brighton. Copies of the cassettes were sold at shows and by mail order".
"In 2007 their songs are still played at clubs and on the radio. Andy and Martin are now recording again, and hope that their new music will soon be coming to a dancefloor or a station near you".
Download
Oppenheimer Analysis - The Devils´s Dancers
And I´m throwing on this heat from Frenchies
Terrestrial Super Receiver
just because it´s hot.
Download
Terrestrial Super Receiver - Sky Transmission