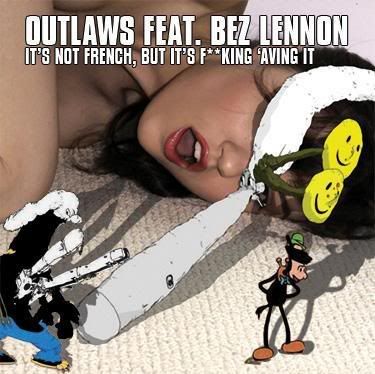 It´s about time I post some rave on here. This mix is by London rave crew
Outlaws
with Peter Kirk being the only constant member of the crew. It´s a pure rave mix of new blog shit, 90´s dance clasixx, 60´s slock and some good ´ol ghetto tech.
If you are at all interested in this
Outlwas
person(s) you can check out an interview at
Waves At Night
and a lot more epic mixes
here
Download
Outlaws feat. Bez Lennon - It´s Not French, But It´s Fucking ´Aving It
TRACK LIST:
INTRO
SOUTH RAKKAS CREW - CARRY FEELINGS
SAMIM - HEATER (OUTLAWS EDIT)
HERBERT - MOVING LIKE A TRAIN - SMITH AND HACK MIX
WHIRLPOOL PRODUCTIONS - DISCO TO DISCO - LES RYTHMES DIGITALES REMIX
FRANZ FERDINAND - DO YOU WANT TO? - EROL'S GLAM RACKET MIX
LEMON INTERUPT - BIG MOUTH
ALPHABEAT - FANTASTIC 6 - RADIOCLIT MIX
FATBOY SLIM - SONG FOR LINDY
DIGITAL BOY - OK ALRIGHT
DJ FUNK - BOOTY BOUNCE
ZEN KEI - THE PUNISHER
UTAH SAINTS - WHAT CAN YOU DO FOR ME?
ARMANDO - 100% DISSING OF YOU
ETIENNE DE CRECY - PUNK
CUT LA ROCK - FREEZE
FREDRICO FRANCI - CREAM
SWITCH AND SINDEN - DIN DA DA
BACK AT THE CLUB - BOY 8-BIT MIX
PRINCESS SUPERSTAR - LICKY - HERVE MIX
ALTERN-8 - ACTIV8
DEUS - NIGHTSHOPPING
BOW WOW WOW - LOVE PEACE HARMONY
FOUR TOPS - IT'S THE SAME OLD SONG
THE SUPREMES - BABY LOVE
THE SUPREMES - YOU CAN'T HURRY LOVE
THE EXCITERS - TELL HIM
FAT CONTROLLER - IN COMPLETE DARKNESS
BASS MEKANIK - CAN'T WAIT TONIGHT
SUB LOVE - UNDERGROUND
THE CURE - PUSH (OUTLAWS EDIT)
SCAM - PUT YOUR HANDS UP
SL2 - ON A RAGGA TIP
SONZ OF DA LOOP DA LOOP ERA - FAR OUT
RADIOCLIT - DIVINE GOSA - SWITCH REMIX
STRIP STEVE - TOMMY BOY
REVLOVER - CAN'T STAND
FELIX DA HOUSECAT - SILVER SCREEN SHOWER SCENE -THIN WHITE DUKE MIX
BONDO DE ROLE - GASOLINA - FAKE BLOOD MIX
EFFECTIVE FORCE - COMPLETE MENTAL BREAKDOWN
TODDLA T - INNA DI DANCEHALL - COUNT AND SINDEN MIX
TEKI LATEX - DISCO DANCE WITH YOU - PARA ONE MIX
FAST EDDIE + DJ SNEAK - BOOTY CALL
CHEMICAL BROTHERS - ACID CHILDREN
ALEX GOPHER - AURORA
HUMANOID - STAKKER HUMANOID
CHARLEAN DANCE - MR. DJ - SPEAKER JUNK MIX
DON RIMMINI - LET ME BACK UP - CROOKERS MIX
SHINICHI OSAWA - STAR GUITAR
MOTOR - 20 VOLTS OF STEEL - FRANZ AND SHAPE MIX
BASSBIN TWINS - WOPPA - OUTLAWS MIX
PERGON - THE DELIVERER
HARRY BELAFONTE - THE BANANA BOAT SONG