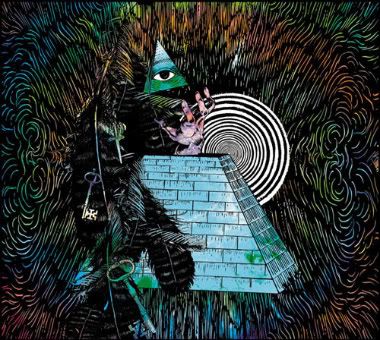 David Gilmour Girls
is a German electro/rock duo with an album on the horizon. The album "Vultures" will be released on October 8th on
Relish Records
. The song "Young Rats" is taken from the album.
David Gilmour Girls - Young Rats
More interesting than this track is the mix they did for
Cosmic Disco
, which is a collection of disco, rock and psychedelic acid rock.
David Gilmour Girls - Cosmic Disco Mixxx
TRACK LIST
* Mort Garson 'I've Been Over the Rainbow'
From Garson's 'The Wozard of Iz' LP - It's rumoured Nancy Sinatra is the one singing on this track, but I'm not too sure that's entirely true.
* Baldelli & TBC 'Cosmic Sprint'
No need to explain this one on a blog with a name like this right?
* Warren Zevon 'Nighttime in the Switching Yard'
One of the most underrated (in Europe at least…) US singer/songwriters I think. From his 1978 'Excitable Boy' album.
* David Gilmour Girls 'Tune in Your Aura (Michoacan Remix)'
I guess this is an exclusive for you guys :) - should be out in the future somewhere on a Relish compilation.
* Chrome 'Eyes in the Centre'
I'm in no way an expert on Chrome - but I like the tracks I know of them, and this one is great.
* Black Randy 'Marlon Brando'
From the 'Pass the Dust, I Think I'm Bowie' album, which might just be the best name for a record ever. Originally released on Dangerhouse Records who released a whole lot of amazing late seventies LA punk singles (The Dils, Weirdos, X, The Eyes). Not extremely influential on our sound I guess, but boy do I love that stuff.
* Jobriath 'World Without End'
Jobriath was set out to be the American answer to Bowie in the mid seventies… He only made two records of which only the first one actually is really good. His life and carreer is a pretty sad story if you get into it - there's some stuff to be found on the internets I guess. Morrissey had a hand in a CD reissue a few years back.
* The Ghost 'The Storm'
Amazing late sixties/early seventies UK psychedelic band - Wah Wah from Barcelona reissued their (only?) album last year… Definately one to look for.
* Gomorrha 'Tittisch Child'
I hardly know anything about this band - I guess they're German and made only one record in '72. This track is sick though…
* Grand Funk Railroad 'Going For the Pastor'
I mentioned this track as the main inspiration for the break in 'Heavy Metal Music Magazines'. The vocals are a little bit too much at times, but musically it's great. Frank Zappa produced this.
* Left Banke 'Men Are Building Sand'
Some higly Zombies inspired stuff here I guess… There's a compilation album with all of their recordings between '66 and '69. Highly Recommended… Oh yes, Spinal Tap's Michael McKean played with them at some point, haha.
* Astral Navigations 'Someday'
Some more 70s British psychedelica.
* Chris Squire 'You By My Side'
So many horrible Rick Wakeman records, and just one amazing Chris Squire solo album… It's just unfair.