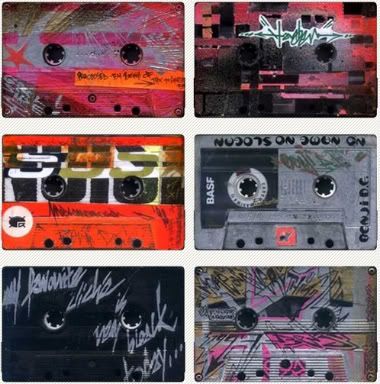 Weird Tapes
hails from Philly and is somehow affiliated with indie pop rock band
Hail Social
.
The music is a pop/rock/house/disco hybrid that is very soothing and emotional, maybe not the club bangers (but who needs them?). Here for your listening and downloading pleasure I got the whole five track EP called "Get Religion" from last year.
The track "Party Trash" also samples which ever track Ice Cube sampled on "Today Was A Good Day". Nicely Done.
Download
Weird Tapes - Get Religion EP
(5 tracks, zip file)
Weird Tapes - The Heavens
Weird Tapes - Glorious
Weird Tapes - Home
Weird Tapes - Nikki
Weird Tapes - Party Trash
And as a bonus a mix Mr. Tapes did for a friend for a road trip.
Weird Tapes - Blue Skies Captain Mix
TRACK LIST
"Love Has Come Around" -Donald Byrd
"Optimistic" -Sounds Of Blackness
"Love Love Love (Aeroplane Mix)" -Low Motion Disco
"Highwayman" -The Highwaymen
"Shakedown Street" -Grateful Dead
"Bad Weather" -Supremes
"Suspicious Minds" -Elvis
"Seven Year Ache" -Rosanne Cash
"Little Girl In Bloom" -Thin Lizzy
"Rainy Night In Soho" -The Pogues