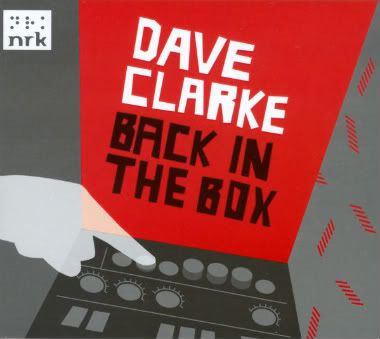 NRK
released
Dave Clarke´s
latest mix "Back In The Box" last month. It´s a collection of old school house tracks (mainly Chicago) and it´s Dave´s attempt to (as the title suggests) go back in the box (of vinyl´s that is). Personally it´s great to see Dave take a break from the extremely hard and fast paced techno he usually plays and do some old school shit. For me it´s extra exciting since
Dave Clarke
is the man that pulled me out of a musical world only consisting of hip-hop and turned me on to the electronic sound (his "Before I Was So Rudely Interrupted" was the first techno 12" I ever bought). Things have kind of snowballed since and I am but a shadow of the hardcore techno monster I was just five years ago (but I´m still young). Come to think of it the first "World Service" CD was one of the first techno (electro) mixes I ever heard along with
Frankie Bones´
"Factory 101" mix.
Anyways, "Back In The Box" is a wonderful journey through what I can only assume is some of Dave´s influences.
Read
review
.
MP3
Ralphie Rosario - I Want Your Love (Transcontinental Mix)
MP3
The Rude Boy Farley Keith - Give Yourself To Me
Buy the album at
Juno Records
.