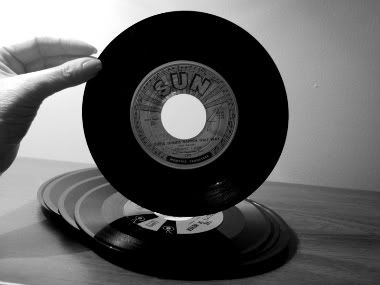 Earlier this year the Dog´s favorite DJ
Mike The 2600 King
made a mix for design blog
Grain Edit
showcasing 12 of his favorite album covers. The mix was made for the art on the covers, so Mike´s comments relate to those. So head over to
Grain Edit
to see the covers in question.
MP3
Mike The 2600 King - Grain Edit Mix
TRACKLIST
1) Jazz Lab Band "Sour Pink Soup"
These jazz lab records are always really hit-or-miss. This particular college band, from Meramec Community College in St. Louis, MO, kinda comes with it. The cover is beautiful - nice clean type on a plain background. Clean, round, and groovy. Almost suggests the shape of a trumpet, but who knows if that's what they were going for.
2) Les Brown "Something"
Awesome Beatles cover and even cooler artwork. I'm a sucker for these intricate '70s post-psychedelic watercolor illustrations.
3) Teegarden and Van Winkle "Can't Get Enough of Your Love"
I'm also a sucker for simple photography with clean Helvetica type. These funk folk dudes are posted up in front of their ski lodge with a shotgun.
4) North Texas State University Lab Band "Three Freaks"
Not to be confused with the DJ Shadow / Keak the Sneak / Turf Talk "Three Freaks" song, but still not bad at all. Clunky hand-drawn psychedelia.
5) Alice Coltrane "A Love Supreme"
Peter Max did the late '60s psychedelic art style better than just about anyone else. I'm on the fence between Max, Keiichi Tanaami, and Milton Glaser. This isn't necessarily the best example of his work, but it's gorgeous and the record is really great as well.
6) Perspective for the 70s "Power Flower"
Promotional record for Westinghouse. This is the soundtrack to a sales convention held in 1969. I love this cover for the same reason as the Jazz Lab Band cover - very clean and concise line work.
7) James Last "Walking in Space"
There was a time when I would snag up every different version of the "Hair" soundtrack I came across. James Last's is one of the better ones. The eyeball covered in wigs is pretty freaky, and the cover of "Walking in Space" is one of the best covers of song from "Hair," second only maybe to Galt MacDermot's instrumental remake of "Ripped Open By Metal Explosions."
8. Hair, London cast "Where Do I Go?"
Not the best "Hair" record, but the artwork is excellent. The pages of my sketchbooks look like black & white versions of this. Just weird shapes and words and clouds all over the place. Feelin' it.
9) Lydia Pense and Cold Blood "Back Here Again"
Kind of a slept-on Cold Blood record. There are a couple of really hot songs on here. I love record covers with cool photography like this. Plus, just like Helvetica, I'm a sucker for the Frankfurter typeface, mixed with a really fresh ampersand to boot.
10) Barry Miles "Hijack"
This has to be one of my favorite album covers ever. I can guarantee with almost 100% certainty that I'll be ripping this off for something or other somewhere along the road. Cool record with good jazz-funk instrumentals.
11) Elijah "L.A. Nites"
I really wish I had this cover in better condition. beautiful color scheme and typography. I always like when people use dark brown as their darkest color instead of black. Poster artist Michael Motorcyle does this alot and it helps give everything a nice warm feel. Good rock record with a few cool funk moments.
12) Herb Pilhofer "Pan Am Theme"
With all due respect to Prince, this might be the best record ever to come out of Minneapolis. Local composer and commercial musician Herb Pilhofer presents some of his best commercial themes and jingles, some of which never actually existed. Pilhofer's music and biography are pretty remarkable. My design partner and friend Wes Winship and I were looking into licensing and reissuing some of his music, but Thes One from People Under the Stairs beat us to it.