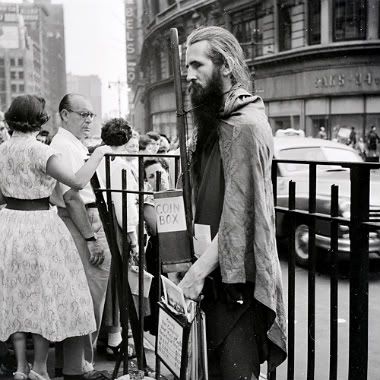 Moondog
(Louis Thomas Hardin) was a (somewhat) crazy blind man who lived on the streets of Manhattan, called "the viking of 6th Avenue", but could play music like nobody´s business. In addition to being a jazz cat he was a cosmologist, poet, and inventor of several musical instruments.
"Bird´s Lament" was recorded as a tribute to
Charlie Parker
and was played at his funeral around 1955. The track was later picked up
Mr. Scruff
who used it for his song "Get a Move On", and then in turn violently raped by corporate America for a "Lincoln Continental" ad.
Moondog
died in 1999, he was 83.
MP3
Moondog - Bird´s Lament (In Memory of Charlie Parker)
MP3
Moondog - Bird´s Lament
(Version 2)