I mentioned both Fawzia and Funky family in the Glass Candy post. And since these tracks are so great I thought I´d share. This first track by
Fawzia
is from ´86 and produced by
Oderso Rubini
the man behind many Italo anthems of the 80´s. The track is kind of a ballad, but it features an extremely heavy goose bumps inducing bridge and synth in the chorus. I couldn´t find out much about the artist herself though, except she also had some releases under the name Fawsia Selama. If anybody has anything else to offer from her please do so by dropping a comment.
Fawzia - Please Don´t Be Sad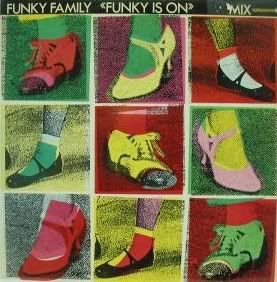 This next track by Funky Family features great vocals from Dora Carofiglio best known under the pseudonym
Valerie Dore
known to many as the queen of Italo Disco. She lent her voice to many classic Italo tracks and sang in the infamous music family Nicolosi (who discovered her at the age of 22). Funky Is On is a beautiful track with a chorus out of this world. Enjoy.
Both tracks featured here are taken from the double CD compilation entitled Confuzed Disco, which features these original tracks on one disc and remixes by names like Franz & Shape, Lindstøm, Kiki and Munk on the second disc. Buy it
here
.
Funky Family - Funky Is On
Again m4a... Sorry...
...and the video for Valerie Dore´s King Arthur