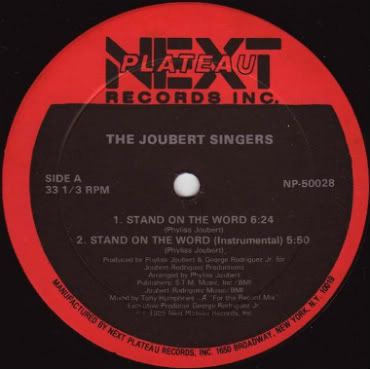 The Joubert Singers
is a gospel choir for people who can´t really sing. The requirements to join are "...a love of music, and some sight-reading ability". STAND ON THE WORD is from 1982 and was the first ever song to be recorded live in First Baptist Church in Crown Heights, NYC. A couple of hundred pressings of the record was made available for the congregation, and one of it´s members was producer and DJ
Walter Gibbons
, who often played the track at the record store he worked thereby revealing it to the public and eventually making it a Garage, Loft and Zanzibar hit. And in 1985 the record was re-released, now with remixes by
Tony Humphries
and
Larry Levan
(the track featured here).
Personally I first heard this song on
Optimo, Espacio
´s (JD Twitch and JG Wilkens) fantastic
How To Kill The DJ (Part Two)
and fell in love with it.
Hope you enjoy it as much as I do, and if you get reborn, that´s OK too.
Download
The Joubert Singers - Stand On The Word